Some of the links in this post are
affiliate links
, meaning if you click on the link and make a purchase I may earn a commission, at no extra cost to you. All opinions remain my own.
Learn more.
If you have ever wondered what happens to old toy trucks after kids play and throw them away here this is a possible answer. Just have a look here at some old, thrown away Tonka trucks about how they are fairing now. Featured here are some old vintage Tonka trucks that have been turned into flower pots and ornaments.
Tough Truck Gets a Makeover
Repurpose kids' castoff toys in the garden! Who said Tonka toy truck were only for kids.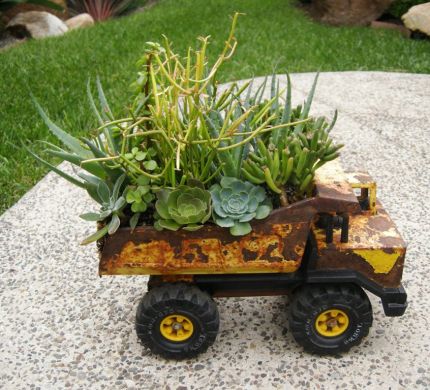 Just look at this old Tonka steel dump truck still in working condition serving as a cactus pot, despite its rust. Some friends had brought this rusted truck from Virginia City in Nevada to Fundemento Designs who turned it into a pot to plant various cactus plants. What a cool idea this is. Maybe our readers who have toy trucks may want to follow this idea when their kids out grow playing with them.  Here are another two creation of Fundemento Designs also using thrown away old Tonka trucks.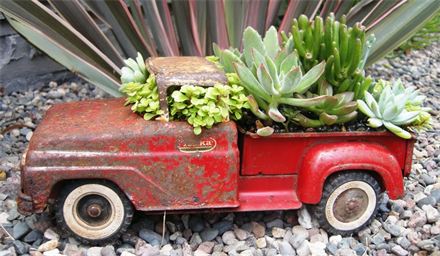 The above pictures show a new trend that is spreading around through the Internet where old discarded, corroded Tonka trucks of vintage models and other old sturdy dump truck models are turned into a very innovative kind of flower pot and used for growing plants.
These Tonka toy trucks lasted so long because the older vintage Tonka toy trucks were made almost fully using very durable steel. So they didn't easily perish or corrode nor did they break like most plastic toy trucks that are on sale nowadays. Unfortunately most of those good old Tonka toy trucks would have ended their lives in garbage bins. Who would have thought there will be a big  market for them in the future among truck collectors and hobbyist. Most vintage Tonka trucks found now are those that managed to survive even after they were thrown away in yards or put away in attics.
Ornamental Value Of Old Tonka Toy Trucks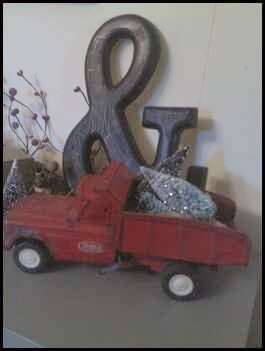 Aaron Graybill had found this old Tonka at an antique shop. Together with a ampersand he found for 99cents at Goodwill store he is using it as a decoration in his house.
Gardens of the Wild Wild West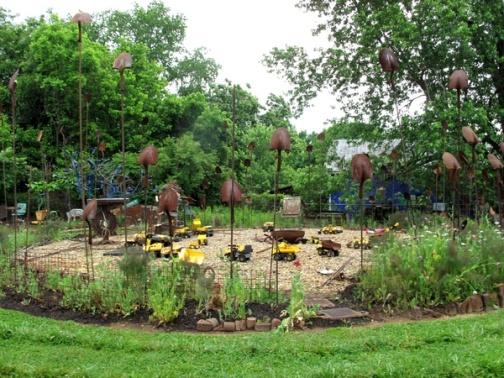 Fun in the garden, Tonka trucks and old shovels. A ingenious idea. Photo from a home garden in the wild wild west of America! Can you imagine, each of these toy truck featured here will have a story of its own to tell about what happened to them from the time they were made to how they were played and loved by boys and girls who later threw them or put them away after so many years of use.  What can you do. That's a sad reality of life!
Finally, A Corroded Tonka For Sale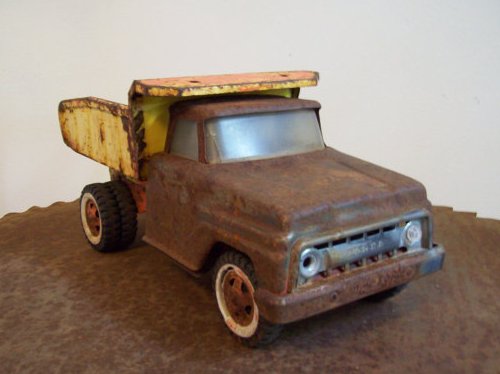 After seeing the above pictures you will also be wanting to get a old Tonka toy truck and make use of it. However finding one will be difficult unless you go to the eBay Vintage Tonka Truck section. There you will find hundreds of old Tonka trucks for sale in restored or unrestored states.
There are also other websites you can checkout if you want to buy vintage Tonka dump trucks. I found the above Tonka truck for sale at www.etsy.com. Lesson for us, don't throw away your old tonka trucks or even other old toy trucks. There are places to sell them online and make some money instead of putting them in the garbage bin.
Chicken Coop in Discarded Tonka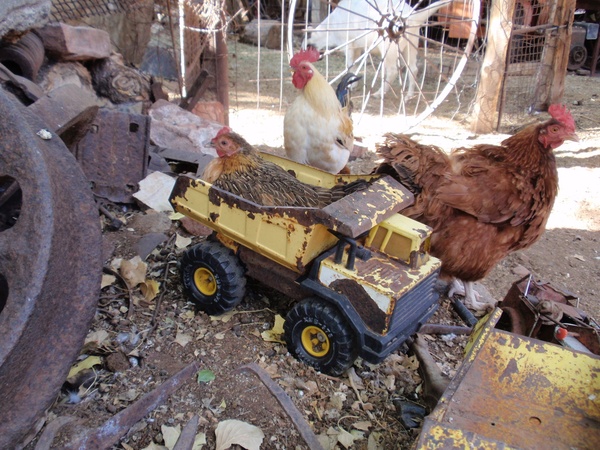 This last picture was taken by Aaron Graybill in his backyard. Most probably this would be the state of the new Tonka trucks in our homes after a few years of use.